Capital EA understands just how vital an effective EA can be for their manager and their organisation. Our work in this area is that of 'giving back' to the role and career that has provided an enormous amount of knowledge, skill, success and greater capability.
Enjoyable forum with facilitators that understand the EA role –finally!
This workshop was great and needs no improvement!
A great day of content that was well varied and applicable to the EA career. Also a great opportunity to meet and share knowledge with other EAs. – Mel
This is the second course I have done with Ursula and Capital EA, and each time I have learnt more than expected. The workshops always exceeds my expectations. I would recommend Capital EA to others. – Elizabeth, Department of Social Services.
It was great to be able to network with other EAs. There are not many workshops specific to EAs so thank you for giving us a voice and validating our role. – Alisha, Department of Home Affairs.
The workshop left me feeling motivated and empowered to be the best EA and role model I could be.  – Kirsty, Australian Border Force.
What a motivational and inspiring day. Thank you for empowering and giving us the tools to become more efficient and effective EAs. – Sally, Department of Home Affairs.
Very informative and useful workshop. Highly recommend for any EA to attend. I learnt new things, that I never knew before.  – Linn Staff.
I loved the workshop! Thank you. – Trish.
Thank you, looking forward to the next two courses. – Sam.
Thank you for another fantastic workshop! This has now left me motivated, empowered and looking for new exciting opportunities. – Jadranka.
Really great to get out of the day to day grind- Sometimes in a difficult space (headspace + location) it can be challenging to look at your role from a different perspective, Capital EA allowed me to do so. The course ticked all the boxes and it was especially great to build wider peer relationships.
Stimulating and interesting workshop! Thank you.
Focuses specifically on the modern high achieving career EA. A trust worthy tailored workshop that will give you a brighter outlook on your career goals. Thank you Capital EA! – Marina.
Very informative and useful. Great networking opportunity too! Thank you for a lovely day. – Lisa.
Thank you for such an interesting and diverse workshop, rarely do I attend such relevant, engaging, interesting and fun EA workshops.
I found this valuable on all levels, speakers were positive and highly knowledgable, a great and worthwhile day.
Sharing experiences with likeminded people – a first for me.
The Panel Discussion was so insightful, took so much away from today! Thank you.
I wish this was offered over two days, it has changed the way I think and will be making marked improvements back at the workplace.
Professional, well organised and delivered much more than what I expected.
CEA Academy
Gain access to all of our CEA Academy workshops — EA Entry, EA Evolve and EA Expand. Each workshop is running on different dates throughout 2023 and 2024, pick the dates that work best for you!
BACK BY POPULAR DEMAND
Advanced Management Program
Developed by Senior and C-Suite high-profile EAs to equip you with critical information that no one tells you in the role of a successful EA.
Upcoming Locations and Dates in 2024
Email us to be placed on the workshops contact list.
Canberra: 25 – 26 April
Sydney: 16 – 17 May
Brisbane: 20 – 21 June
Melbourne: 22 – 23 July
Adelaide: 25 – 26 July
Perth: 19 – 20 September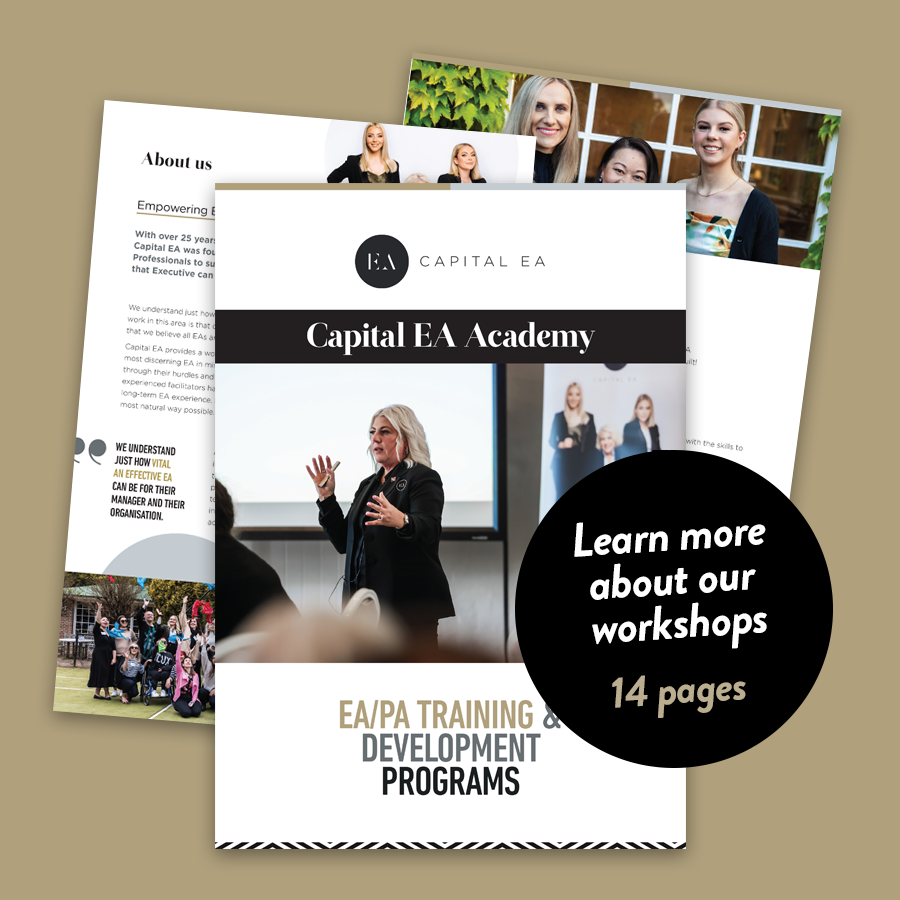 Download the All Workshops Brochure
Unique Experiences
Capital EA provides a workshop like no other. The workshops are purposefully designed with the most discerning EA in mind, facilitated in a supported space for participants to both work through their hurdles and produce a system that works for them. Our highly experienced facilitator's have first hand knowledge of the EA role, they display foresight, have long-term EA experience, train cohesively in a shared supportive environment and encourage learning in the most natural way possible.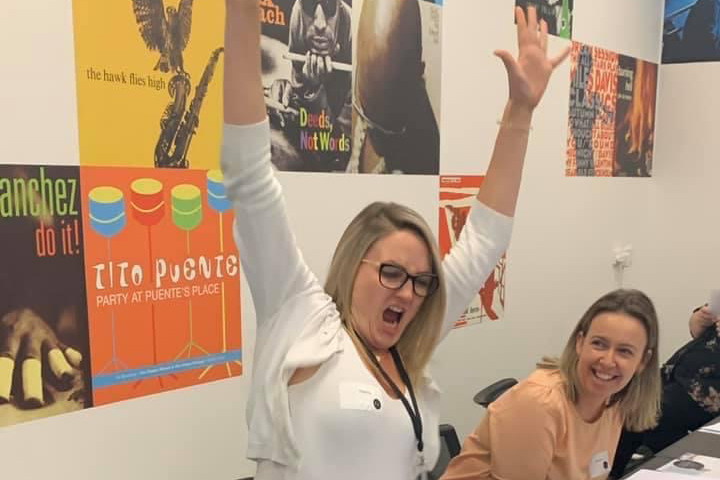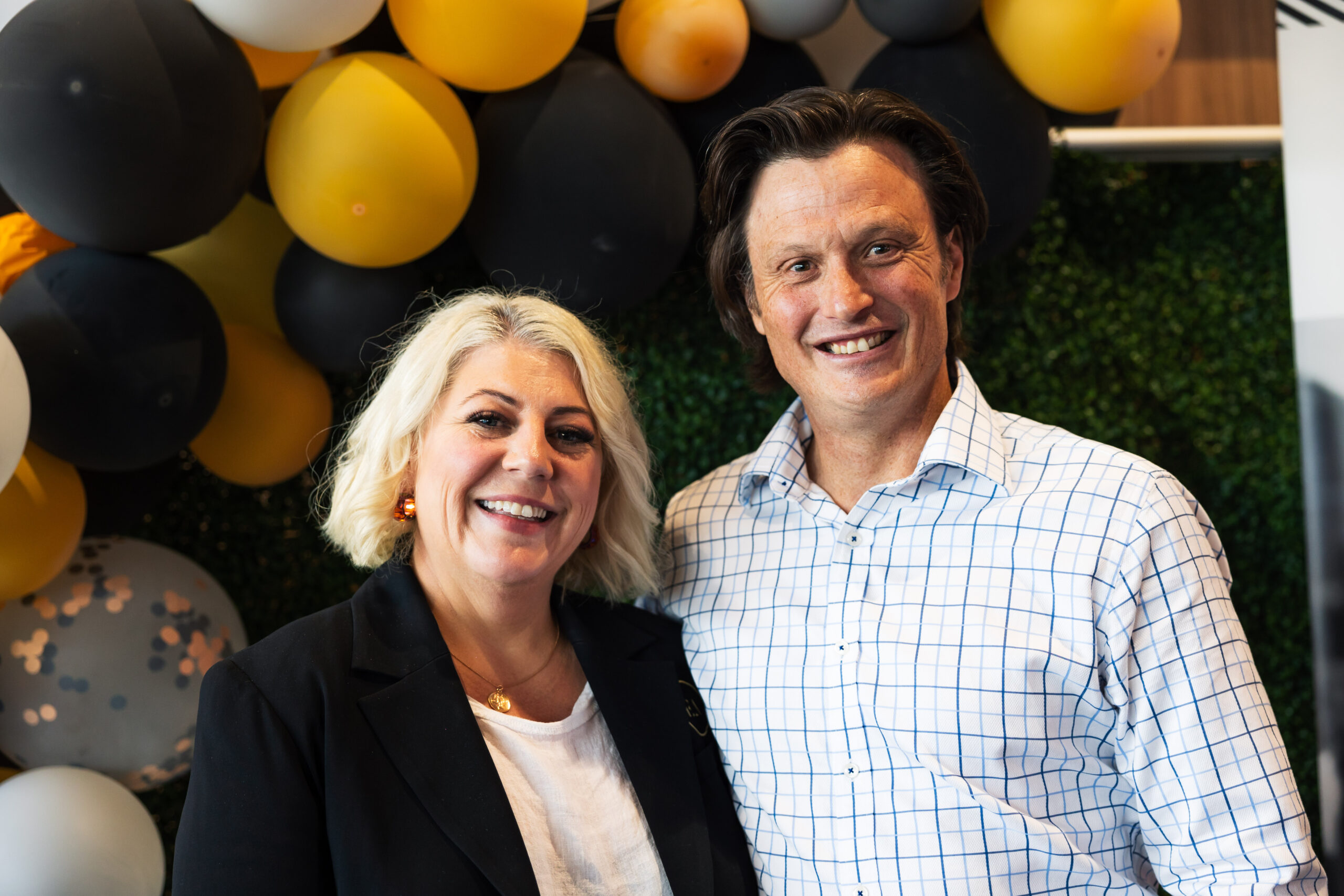 Expert Speakers
No workshop is entirely the same dependant on the participant needs, we invite subject matter experts including senior executive, motivational speakers, high-profile EAs, advisors, parliamentarian staff, stylists, communication experts and many more to ensure the time spent from the desk is utilised to effectively develop and achieve job satisfaction and happiness in the role once again.
We work with the Best
Capital EA has designed and facilitated many highly successful workshops both in the private and public sector. They can be offered either 'in-house' or at a preferred venue, we have recently worked with Department of Industry, Innovation and Science, the Department of Health, Department of Prime Minister and Cabinet, Department of Finance, the Australian Institute of Health & Welfare, Department of Foreign Affairs & Trade, Austrade, and the Department of Defence.