M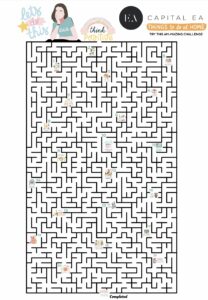 indful drawing, puzzles and reading are some of the best brain activities we can do to reduce our stress and help manage anxiety; And let's be honest, we've all had our fair share of stress in the last few months (thanks Covid).
Here at Capital EA we've created a maze in honour of our good friend and fellow Executive Assistant Adele Selby who is situated in Melbourne and has been in lock-down for over 200 days.  We thought she deserved a little bit of fun to keep her going!  There's a lot of challenges for you to complete along the way and if you're up for it, try to also do each of the self-care activities along the way.  How many will you come across on your way to a Capital EA Virtual Hug at the finish line?
Have a go and don't forget to tag us in your stories or posts on socials when you complete the maze.
Big love – Urs and the team!